Celebrating the Educational Wins
We're good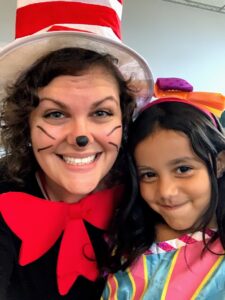 at celebrating!  This is one of the distinct ways we describe our school.  From zany costumes on Halloween to a Polar Express and PJ party in early December to an entire day's worth of activities on our 100th day, we love finding joy in our classrooms and throughout our building.  Another beloved tradition is our annual Thanksgiving feast, when families bring a favorite side-dish to accompany homemade roasted turkeys, prepared by one of our student's dads. The gladness in the room is always palpable.
Even among our staff during an ordinary week, Principal Liz Barna challenges us to name some "Wednesday Wins," or small moments when we've seen a struggling student make progress or find hope in an unlikely situation.  No victory is too small for us to say, "Look at that! That's a win!"  
Believe it or not, we're still celebrating some great wins during this pandemic season…  
Win #1: Learning continues.  Within two weeks of the school closure, our teachers had self-trained and enthusiastically launched online learning for students.  Now, core subjects like math, reading, and writing appear daily, while art, yoga, and social-emotional lessons pop up weekly. Teachers have also begun regular video conferencing calls to meet with their classes for a personal check-in.
Win #2: Parent partnerships are strengthening. As we transitioned to at-home learning, staff made personal phone calls to check in with every family to ensure that they had necessary resources, including the technology to make online learning possible. More importantly, parents have stepped up to help their young children transition to online schooling, despite the immense stress many are experiencing.  
Win #3: Students and staff are connecting.  How does a 4, 5 or even 7 year-old understand why they can no longer see their teacher or classmates?  Social and emotional well-being is not just a value to our school, it's a part of our DNA. Without missing a day, nine of our staff have been doing storybook read-alouds on our Facebook page, @LogosHbg.  We want students to see our faces, hear our voices, and know that they are loved and missed. 
Three big WINS that equal a quality education.  We could name more, but then this would be a much longer post.  Just know that at Logos Harrisburg, we persevere through hard seasons, and we know how to celebrate!