Let's Bring Eden J Back to School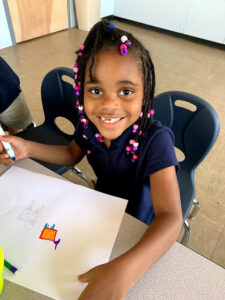 Eden J has been struggling with learning at home.  It's been difficult to share her mom's cyber schooling help with her three other siblings, and her motivation is waning. Her mom is committed to providing a rich education for her, but working two jobs and arriving home late each evening to help with schooling is difficult. Eden wants to go to school! She misses her friends, her teacher, and all those who have made her last three years at Logos Academy Harrisburg so special. Thankfully, she is a bright student whose mom is deeply committed to seeing Eden grow in mind and soul, and with your help, she will be in school this September.
We want to see Eden and our other 50 students back in school in September as well!
We are working hard toward that end.
We are offering summer learning sessions to assist students like Eden who need help catching up.
We are finishing cabinet construction, painting, flooring, and clean-up of our second grade room.
We are developing a COVID-19 policy to ensure the safety of our staff and students.
We have been filling the remaining spaces in each class and still have several openings!
We are hiring an assistant Pre-K teacher.
Highlights from our 2020 Fiscal Year:
Thanks to your support and a sizable grant, we finished our fiscal year exceeding our goal of $308,000 by more than $10,000!
Your giving accounted for almost half of our income this fiscal year. Thank you!
Tuition income more than doubled in 2020, accounting for 12 percent of our annual income.
Eighteen percent of our income came from donors who directed a portion of their PA tax dollars to Logos Academy Harrisburg.
There are challenges that lie ahead as we start the new year, as many of our expected streams of revenue will be limited. We cannot provide a rich education of mind and soul without your generosity. Will you continue to partner with us? Eden is counting on you!